Sparkling Trend of Solar Streetlights
The cutting-edge technology of solar power has tremendous application to brighten up the environment without having any sort of adverse effects. That's right. The solar power industry now presents solar LED streetlights that are cost-effective as well as environment-friendly. Being independent of the grid station, these lights give uninterrupted electricity supply whenever needed. The market has flooded with a wide range of trendy and stylish solar streetlights that are too beautiful to adorn the streets yet very light on the budget. Due to its tremendous popularity over the past years, solar LED streetlights' manufacturing has significantly increased. 
All You Need to Know About the Solar Streetlights
You can find numerous solar streetlight suppliers in the market, but getting reliable providers is challenging. You need to explore the solar power industry to build your trust at the right forum so that you can get authentic technology. That's the right approach to ensure reliability on the tremendous technology that lasts longer than ever before.
The latest manufactured solar streetlights are portable, wireless, and infra-sensory LED streetlights. They primarily include solar panels, rechargeable batteries, poles, lighting fixtures.  As solar technology is widely known for its eco-friendly nature, lithium batteries are used in manufacturing solar streetlights that do not contain harmful agents for the environment. Furthermore, it enhances the life of the streetlights to brighten up the street for long-terms.  
Moreover, these portable wireless solar streetlights are extremely easy to be installed anywhere across the road, in small streets, even in rural areas. The most straightforward installation protocol includes digging the hole, fixing the lighting box, and last but not least, mounting the pole. That's all about it. Mostly these lights come with the kit, including all the necessary parts to get them installed instantly anywhere. The latest solar LED streetlights can also install on the old poles or even on the walls.
Remarkable Features of Solar Streetlights
As mentioned earlier, solar streetlights are manufactured with the latest solar technology having infra-sensors that control them automatically. These sensors work like the motion sensor light bulbs, i.e., they switch on and off automatically upon receiving specific signals. Infra-sensors let solar streetlights switch off in the presence of sunlight, and the charging process starts automatically. In the dark during the nighttime, these sensors sense the darkness and switch on the solar streetlights to brighten the dark areas. Moreover, they are capable of sensing motion at a distance of few meters to adjust the brightness automatically. 
Incredible features also include their resistance towards rust and weather changes. Solar streetlights are rust-proof to give them a long life. Alumina alloy is used to prevent dust and corrosion. Additionally, they are also water-proof to survive rain and storms and illuminate the streets with full brightness even during the rain and storms. That's why they are the perfect choice for any area regardless of the climatic conditions.
Moreover, like other solar light bulbs and solar motion light bulbs, the solar LED streetlights consume very little power, and they are also shock-proof. Advanced solar streetlights contain integrated CCTV cameras as well. You can get a variety of solar streetlights with advanced integrated features as well to serve your requirements. These integrated versions are convenient and simple to be installed anywhere on poles, walls, wood or even plastic, etc. 
As the solar streetlights are wireless and portable, they can easily be installed in any area irrespective of the energy availabilities. All they need are exposure to sunlight to be recharged during the daytime. You can use these solar LED streetlights for a variety of purposes. They are as simple to install as DIY products. So, you can easily install them wherever you need, like house entrances, terraces, pathways, pavement, parking areas, gardens, playgrounds, and anywhere else. 
The energy crisis is increasing rapidly in the fastest growing world. To compete for the growing challenge,s domestic, commercial, and industrial zones need to adopt sustainable, cost-effective, and environment-friendly energy alternatives. Solar streetlights. Solar motion sensor light bulbs are promising solutions to carry forward in all sectors, even in the mining areas, which are remote areas having power shortages. Moreover, solar streetlights and solar motion lights are also feasible to be installed on the islands without spending a lot of investment. 
In conclusion, solar lighting is a one-time investment for getting long-term performance. 
Equally Suitable for Urban or Rural Areas 
As rural areas suffer from harsh environmental conditions and narrow and small streets, laying energy cables is not suitable. Moreover, many rural areas are not somewhat developed to have a proper electricity system by the government. In these cases, solar streetlights, solar motion sensor lights, solar light bulbs, and solar spotlights are the ultimate saviors to ease rural life.  
The portable solar streetlights are wireless, like solar light bulbs and solar motion. They can be installed in rural or remote areas as well quickly and conveniently. Moreover, they require little or no maintenance like other streetlights, so they cut off the maintenance cost from the budget as well. As rural governments lack sufficient development funds, solar streetlights are perfect alternatives to provide rural people the necessities of life to survive.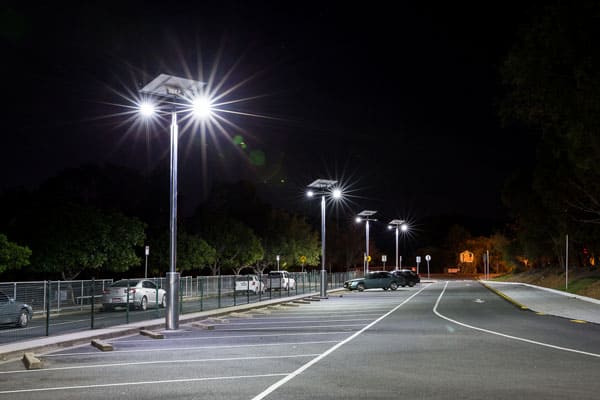 We are striving to make life easier with the use of solar-powered products. We proudly present smart solar streetlights with PR sensors. These portable solar streetlights are affordable as well as simpler to install anywhere. SolarPlusMore PR-sensor streetlights are manufactured with Die-casting Aluminum + Tempered Glass with the Lifepo4 battery and High-efficiency Monocrystalline Silicon Solar Cell. Other specifications include 18V 80W Solar panel and 4000-5000LM Lamp Luminous Flux(lm). These PR-sensor solar streetlights are water and shockproof, rust and dust-resistant, to perfectly suitable for all climatic conditions. The remarkable features make them promising lighting alternatives for the urban areas and even for the rural environment.  
We deal with premium quality manufacturing of solar motion lights, solar spotlights, solar flagpole lights, solar battery chargers, solar wireless all-purpose chargers, and many other solar products. Our featured products are attaining recognition amongst customers that makes SolarPlusMore the reliable solar products provider.