Insight to Solar Market for Best Solar Smartphone Chargers
Solar-powered products have taken the world by storm. It allows replacing literally whole power system with the more sustainable and cost-effective one. It's high time to bring ease to your life without compromising your budget and the quality of the products. Save the battery life of your smartphone and protect them from voltage fluctuation by opting for high-quality solar smartphone chargers.
 Keep Your Eyes Open, Sync with the Brain
The solar market has flourished tremendously. There are thousands of solar-powered product providers ad suppliers out there. You can purchase them through online platforms as well through Amazon, Blavor, Feelle, solar plus more, and many other credible apps. You can get them delivered to your doorsteps in no time. The important matter to be considered, while you are searching for your solar iPhone x charger or Samsung wireless charger, is to get thorough analysis and neutral reviews of the product from whatever place you buy. Where there is a trend, a high probability of scams and fraud are also there. So don't let your solar experience be hijacked by fraud suppliers.
Another thing to be assured of is the specification of your smartphone and the solar battery to get the perfect partner for your phone. Whenever you analyze a solar wireless charger, take into account its type, power output, size, and device compatibility.
 Let Us Guide A Little
Considering the type of charger, you can find two types of solar smartphone chargers in the market including direct solar chargers that connect solar panels directly to your smartphones and battery bank solar chargers that don't directly attach with your phone rather they are used to charge the solar power bank which you can use to charge your smartphone whenever needed. So you just need to keep your solar power banks charged to charge your phone in the time of need.
The power output of the solar wireless charger matter a lot. It affects both your charging experience and the cost. High power chargers are a bit expensive than moderate ones but it gives you the advantage to charge multiple devices or heavy ones like tablets, iPads, etc. solar smartphone chargers with lower power out can be budget-friendly but these are suitable only if you need to charge a single device. Keeping things simple, the power output of between 10 to 15 watts can be a reasonably good charger. Similarly, the size of the charge also matters the most as you will carry it wherever you go. You can find a suitable size that is perfect for your backpack. There are multiple options available that contain several types of material, light or heavy, without comprising the quality of course. Other than that you can find folding up chargers as well. These solar wireless chargers come with lightweight solar panels that fold up to form a compact shape that you can carry anywhere easily. On the other hand, a heavy backup battery pack adds additional weight that not that convenient to carry.  
The prime and utmost significant factor is the compatibility issue. Although there are options for multipurpose or universal chargers that can charge any type of device or smartphone. Still, it's important to be specific, to buy a solar smartphone charger that is truly compatible with your smartphone to protect the battery life of your device for a long time. Moreover, do check the numbers of charging ports so make the usability at maximum extent. However, solar wireless chargers take at least five hours to fully charge your phone irrespective of the high or lower power out. That is why we can say that you can keep solar panel chargers as a source of backup power, perhaps when you need to while traveling outside the house, on the road trip, on vacay camp, or in the village.   
Trendy Designs, Endless Variety, Smart Performance
Forget about old-fashioned hand-crank phone chargers or your old Samsung charger, solar smartphone charger are elegant, beautiful, trendy with remarkable performance. They are compatible with almost any type of device including all 5V devices such as iPhones, iPads, Samsung, Sony, Huawei, HTC, LG, Nexus, Tablet, GPS, and more. You can find a wide range of designs including different numbers of solar panels and their arrangement. Foldable and packable solar wireless chargers fold up and can fit into your handbags. These elegant light-weighted designs are super light on your pocket as well. With multiple ports, they can be used for charging multiple devices.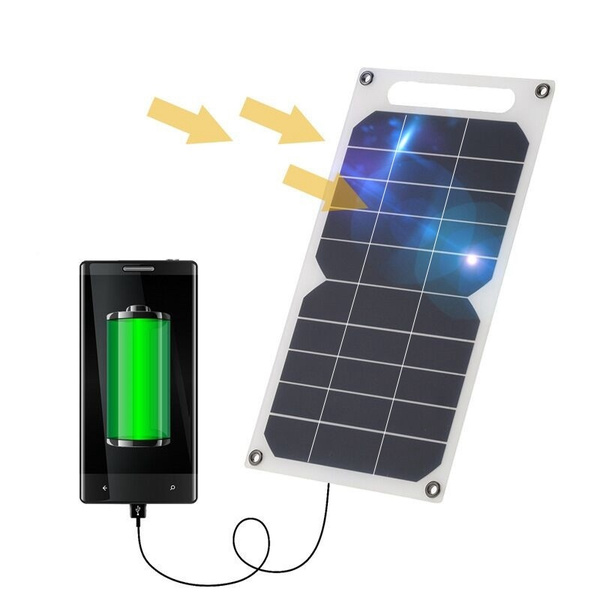 Some solar wireless chargers are manufactured with chain panels together with a built-in kickstand that allows you to find the optimal positioning. Moreover, multiple panels can be chain together to increase wattage output. The hikers, bikers, or the people who don't like to carry heavy devices can opt for folds down small solar wireless chargers. These are foldable designs that unfold into a single large sheet with multiple panels and can be hung off a tree or the bag o be charged and then again fold into small size by folding them down to carry anywhere in a backpack.
Most of the solar chargers contain numerous ports to let you charge multiple devices and provide enough juice to charge your device multiple times. Moreover, these remarkable solar smartphone chargers exhibit exceptional properties like these are waterproof, shockproof, and dustproof and some are designed with a built-in LED flashlight.
SolarPlusMore; Reliable Suppliers of Solar-powered Wireless Chargers
While shopping with us, your search for premium quality cost- effective trendy chargers came to an end. You don't have to worried about the specifications and other properties of the solar wireless chargers. We have got you completely. We supply only high-performance chargers that keep your devices charged wherever you go. Biking, hiking, camping, bad weather, rains, dust, or high temperatures, no matter what the conditions are, solar plus more chargers resist the extreme conditions to keep you safe from the fear of running out of the batteries. Head over to our wide range of featured products to shopping for the best solar wireless chargers or solar multipurpose chargers. We guarantee you'll find them worth it.