Get To Know All About the Solar Electric Fencing
Solar electric fencing holds the promising potential to provide you infallible security for keeping homes, offices, buildings, industries, factories, companies,  farmhouses, farms, or any belongings impenetrable by thieves, robbers, or any misfortune incident or accident. Solar electric fence chargers keep the system charged and make it efficient to work 24/7 flawlessly without bearing any voltage issues. As it does not require electricity from the grid station, no energy shortfall or load-shedding can affect your security system and your assets will be secure and guarded each moment. Moreover, its fully automatic system informs you promptly through alerts or SMS at times of emergency or urgency.
How Does It Work
Solar electric fencing employing solar electric fence chargers works on more or less the same principle as that of solar phone chargers or solar streetlights with PR sensors, discussed in the previous blogs. It utilizes sunlight to get charged without using the electricity from the grid station. Usually, built-in solar panels are required to charge the batteries by transforming solar energy into electricity that subsequently keeps the energizer functionality on-point around the clock. The smart selection of solar energizers and their compatibility with solar energy and integrated solar systems is imperative.
Solar electric fence systems are quite easy to operate with great efficiency in functionality. All you need is to establish an appropriate angle with the sun while placing the energizer, anywhere along the fence line to ensure the uninterrupted access of sun rays during sunny times. Moreover, you need to be concerned during the weather changes that somehow change the track of sun rays and you need to adjust accordingly. The key factor is appropriate and unrestricted access to sunlight. Facing solar panels towards the shining sun during the afternoon is, however, more recommended. Additionally, protection from the environmental extreme conditions, from the predators, and selection of premium quality products is mandatory to get the most from this phenomenal foolproof security system.
What You Need To Install
You can find plenty of reliable suppliers of solar electric fence systems that provide complete installation to the security system and assist you completely regarding how to operate, precautionary measures, what to do, and what not, to hand over your fully functional fencing. Solar electric fence systems mostly come with numerous components, the quality of each component matters the most to affect the functionality and the lifeline of the security system so you need to be cautious about each component. The selection of the best and optimized fence system requires exhaustive research, comprehensive inspection, and steadfast comparative analysis amongst the available options. The solar electric fencing products include:
Solar Panel, Solar electric fence charger/energizer, and Battery
Solar product selection is the key factor to get full advantages of the systems. You need to select the high-quality solar-powered fence charger that is capable of supplying adequate power constantly to avoid any loopholes which, either way, can put you at risk of danger or it can allow the potential escape or entry of anybody. Additionally, the solar panel that receives and processes sunlight to bring about the conversion into sustainable electricity, needs extra attention when purchasing. You need to get the most compatible one, with the batteries or the chargers. If you're opting for bigger chargers and batteries, then you should get a solar panel of comparable size. Batteries are the powerhouse of the electric fence system. It should be compatible with the current consumption of the charger with adequate storage capacity to provide sufficient power to the charger during reduced sun rays, usually in winters or at times of heavy clouds.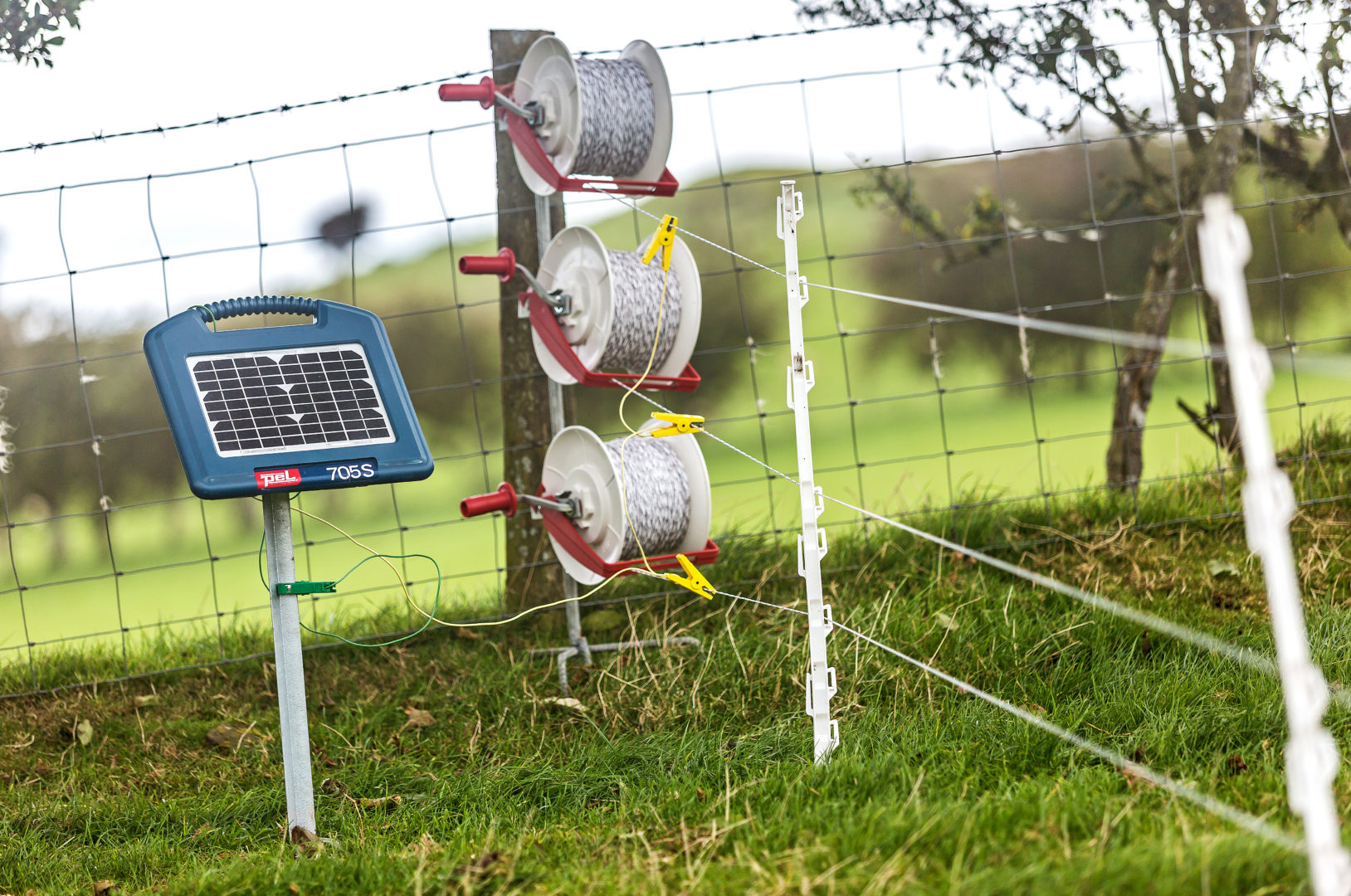 Regulator, wires and tensioners, enclosure
Even high-quality solar panels or batteries are not worth it until you connect them with the compatible regulator to limit voltage supply and prevent the adverse effects of the battery overcharging or voltage fluctuation. Efficient solar electric fencing requires robust and high-quality aluminum or steel wires, depending upon your requirements and the environmental conditions. Moreover, high-quality tensioners are also essential components of the fencing to keep wires straight and in tension to prevent any possible attempts of wire cutting by the intruders. Over and above, you need to install a solar electric fence energizer in an appropriate enclosure to keep it secure from environmental extreme conditions.
Siren, Strobe, and Fence Lights
Siran produces loud prolonged signals or warning sounds that are mostly installed as an audible indicator. It is essential to keep you updated or alert promptly in case of fence tempering or potential damaging attempts. Similarly, strobe lights serve the purpose of visual indicators of an alarm while fence lights indicate the fence condition and status by installing it between live wire and earth. The strobe lights exhibit fence status post an alarm situation and it also possesses visual alarm event memory.
GSM Device and Keypad
A GSM device or device serving the purpose of a global system for mobile communication is installed with the solar electric fence system to get prompt notification alerts or SMS. Although it's optional to install a GSM device, it is the most promising way to keep yourself updated regarding any misfortune incident. However, you have an option to turn it on or off remotely. An installed keypad allows you to control several functions including switching on/off. It is mostly installed with the solar electric charger inside the house so that you don't have to manage it from within the house.
Hence, solar-powered electric fence systems are the most reliable and efficient security systems. Additionally, it helps in energy conversation without compromising the functionality of the operating system. As they utilize solar energy, it helps you get rid of massive electricity bills. These cost-effective installations offer you a one-time investment with lowered maintenance cost. Indeed, a budget-friendly package with foolproof security. 
Get to know more amazing advantages of the solar electric fence system in upcoming blogs.
Till then,
Keep browsing the wide range of the most economical, promising, and high-quality solar-powered products of SolarPlusMore to keep your devices charged, no matter where you are.