All You Need To Know About Solar Wireless Chargers
Solar smartphone chargers are worthwhile alternatives to conventional chargers to make your on-the-go hassle-free. You may be wondering what's the purpose of investing in extra gadgets when you have the original chargers of your smartphones. Let's face the fact. Undoubtedly, the quality of smartphone phones is ever-increasing with the introduction of more smart features and technologies with premium quality material used in manufacturing but somehow the battery quality is a point of concern even for the topmost smartphones. No one likes to hook to the switch to charge the phone. Even during normal days, you have to struggle with the battery as it drains so quickly while using multiple apps. Nevertheless, there is no way of relaxation while on a road trip or picnic, camping, hiking, etc. When we have made our lives easy with solar motion sensor lights, solar spotlights, etc then why not solar wireless chargers that only provide ease in charging phones anywhere and relief in bills but also you can get yourself rid of worries of high voltages or fluctuation that God knows has burnt how many phones.
Good News! Now You can have an all-time backup for your phone charging
Solar smartphone chargers intend to provide you power in the unavailability of the grid power or while on the road. They provide excellent backup for power sources and indeed are the ultimate bliss for the busy crazy people who hooked up to their phones maximum hours a day. While phone charging was a major concern for travelers or tourists in older days, hand-crank phone chargers or solar wireless chargers have got their back. These chargers have become progressively more efficient, cost-effective, and reliable with numerous options, whether you are in search of an iPhone x charger or the Samsung wireless charger. The online market is flooded with a vast range of variety that may confuse you with what to choose for your smartphone. Here we are briefly you about the basic information on the types of solar smartphone chargers and the options available in the market. Keep your observation bang-on and have our two cents on it that's gonna help you, for sure, while purchasing a solar wireless charger.
The basics you need to know
Technically speaking, solar phone charges are of two types. One you call it direct solar phone chargers and another you know as the battery bank solar phone chargers. Basically, the direct solar wireless chargers are the ones that connect your phone directly to the solar panel through a USB cable. Solar power is given straight from the solar panels to the phone. These are the simplest and the most reliable portable chargers that efficiently charge your smartphone. Their robustness and weather resistance make them a promising product to have alongside your adventurous journey. All you need is the sufficient availability of sunlight whether you are using solar options for an iPhone x charger or the Samsung wireless charger. However, you may face a tough time charging during the winter days or in cloudy weather when the intensity of sun rays reduces to a great extent that eventually affects charging these solar chargers. This is probably the only drawback of these solar smartphone chargers as you can not enjoy their advantages if you reside in such weather.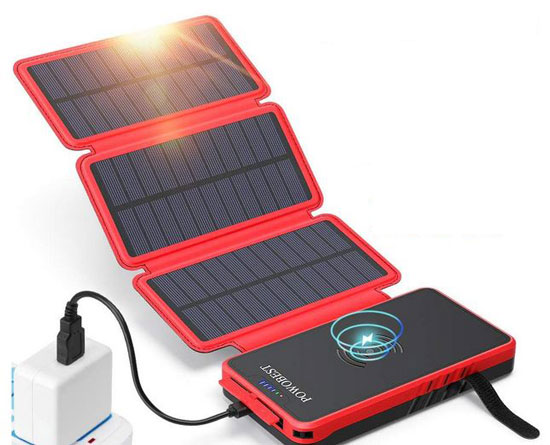 On the other hand, bank solar phone chargers are composed of solar panels and the battery bank. That's what you call hybrid chargers, a blend of direct solar panel chargers and a battery bank. These robust chargers provide you with an uninterrupted power source even if you are living in cloudy regions or are the perfect backup source for winters when the sun is not as bright during summers and springs. You can use battery bank solar phone chargers even in your daily routine. These are the most reliable and compatible with a broad range of chargers and phones. Additionally, they are capable of charging phones faster and in less time as compared to those of direct solar phone chargers. However, if you opt for small solar panels, you can not use them as a primary source of power to charge your smartphone due to the generation of a small amount of power but surely can use them as a power bank or power backups in time of need. Moreover, the use of another device between the phone and the sun may result in electricity loss to some extent.
Solar wireless chargers: the Future is Yours
The attributes and the performance of solar-powered products are getting amazing with the advancement of solar technologies. Let it be solar streetlights or solar motion sensor lights, the progress is incredible to witness. It's a matter of time, though in the near future we will be able to get more power and efficiency using smaller solar panels that are most probably the circle drawback of solar phone chargers. It would be worthwhile to use the potential of solar power as a primary power source. It will help to get rid of grid power and its fluctuating voltages and heavy bills. For now, you can find a promising power backup to be used during travel or when out of grid power, or even usually during an ordinary day to live a more sustainable life by opting for more eco-friendly products.   
SolarPlusMore; You Go-to Place to Get Eco-friendly Alternatives
When it comes to quality with efficiency, SolarPlusMore represents one of the promising and reliable destinations for environment-friendly products. We offer a vast range of solar-powered products with premium quality to keep your devices charged all the time. Whether you need solar light bulbs, solar spotlights, solar motion LED lights, or hand-crank phone chargers, solar wireless chargers, solar battery chargers, or solar multi-function chargers, we have got you back. We intend to provide you with a superior solar experience that you would love to cherish all of your life. Amongst the thousands of providers for solar-powered products, we are here to stay for the long run. Get your analysis game strong. Be aware of spams, chose wisely, choose SolarPlusMore.